A brand-new session of the English Corner this week!
819
11 May

11 de Mayo a las 17:13 hrs.

por Macarena Zapata P.
Are you coming? We'll be waiting for you! 🙂

Come this Wednesday May 12 for a fun and pleasant session in your favorite virtual space, where you can play and chat with your fellow peers and tutors from the faculty while practicing your English! 🤩

Don't miss the exciting news we've got for you this week!

✨WHEN:
* 12:00-13:30 Levels 1-2-3
* 14:30-16:00 Levels 4-5
* First year students can come to all sessions!

✨WHERE:
uchile.zoom.us/ ... bVFJYVJJVWtzYU9Sdz09

See you!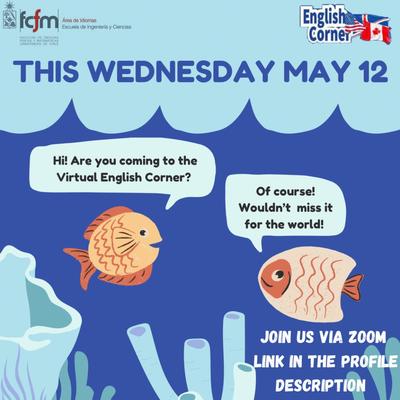 Última Modificación

11 May

11 de Mayo a las 17:14 hrs.

Vistas Únicas
819